Christmas Menu
---
Network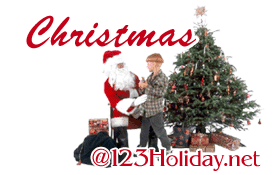 Christmas Kid Crafts
Christmas Village
Make their own "village" out of small boxes. Have them paint, or color one building each day.

---
Hand & Feet Reindeers
You may use brown paper bags, construction paper, poster board for this project.
Trace of of the child's shoes and both hands onto the paper, then cut them out. Using the shoe for the reindeer's head, glue on the hands to make the antlers. You may do the nose by gluing either a red pom-pom, piece of red construction paper, or it may be drawn with colors. Now have the child finish it by drawing on eyes and mouth.

---
Handprint Christmas Tree
You will need 1 poster board, green paper, yellow paper, glue, and scraps of craft items to decorate with
Trace and cut out ten hands on green paper
Cut out one star from yellow paper
Start gluing with one hand at the top of the poster board, with the fingers pointing down. This will be the top of the tree.
Glue remaining hands fanning out to make a triangle shape
Glue star on the top
Decorate with you choice of items. (scrap paper, beads, pom-poms, etc.)
---
Things to String
colored macroni, Fruit Loops cereal, or pop corn

Black Friday Coupons



---
Christmas Tree Balls
Using small styrofoam balls and tissue wrapping paper, have kids wrap tissue paper around the balls, gathering it at the top. Leave about three extra couple of inches at the top. Secure with rubber band or pipe cleaner. If using a rubber band, tie a nice ribbon around to cover. Tip if younger kids age 7 or less, you may wish to pre-cut the tissue paper.

---
Sponge Artwork
Get a bunch of sponges and cut them into shapes like trees, bells, stars etc. Dip them into paint and pressed them onto to paper.

---
Kid Stainglass
Shred and tear up colored paper and ribbon Get a small clear acrylic frame from a discount store and press the paper scraps between the frame and the cardboard backing.

---
Ice Cream Cone Christmas Trees
Using the cone shaped sugar cones, some green icing, and holiday colored sprinkles, the kids will have a great time! Turn the cone upside down, have the child cover it in icing, then decorate with sprinkles.



Buy Christmas trees and decorations online





Search the web: