Christmas Menu
---
Network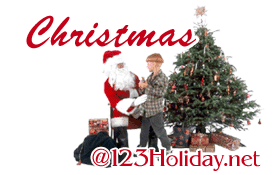 Christmas Recipes
Santa's Best Xmas Sugar Cookies
1 C. oil
1 C. powdered sugar
1 C butter (do not use margarine or Naughty Elves will visit you)
1 C. white sugar
2 eggs
1 tsp. vanilla
4 C. plus 4 T. flour
1 tsp. baking soda
1 tsp. cream of tartar
1 tsp. salt
Preheat oven to 350 degrees. Cream oil, powdered sugar, butter and white sugar. Add eggs and vanilla; cream this mixture very well. Sift flour, baking soda cream of tartar and salt. Add to the creamed mixture and cream well again until thoroughly mixed. CHILL COVERED OVERNIGHT. Roll into balls the size of walnuts. Roll balls in sugar, put on cookie sheet and flatten with a glass dipped in sugar. Bake at 350 degrees for about 11 minutes. Do NOT overbake. This will make about six dozen. MMMMMMmmmmm. More likely five dozen since these cookies mysteriously disappear when kids are around.

Black Friday Coupons


---
Eggnog Bread
2 eggs
1 cup sugar
1 cup dairy eggnog
1/2 cup butter, melted
1/4 tsp. nutmeg
2 tsp. rum extract
1 tsp. vanilla
2 1/4 cup flour
2 tsp baking powder
Preheat oven to 350 degrees.
Grease bottom of bread pan.
Beat eggs, add sugar, eggnog, butter, rum and vanilla.
Blend well, add flour, baking powder and nutmeg.
Stir until just moistened.
Pour into greased pan.
Bake at 350 degrees for 45-50 minutes or until toothpick comes out clean
Cool 10 minutes.
Remove from pan.
Cool bread completely before slicing.


---
Cherry Fluff
1 can Cherry or Strawberry pie filling
1 can Eagle Brand Condensed Milk
1 16 oz. can crushed pinneaple, drained well
Combine. Fold in 8 or 12 oz of Cool Whip and chill.

---
Baker's One Bowl Chocolate Brownie Cookie
6 tbsp. Butter or margarine
2 cups toasted chopped walnuts (optional)
1 1/4 cups sugar
2 tsp vanilla
3 eggs
2 tsp. Vanilla
1 cup flour
1 1/2 cups pecan halves 1/4 tsp salt
6 squares BAKER'S semi-sweet baking chocolate OR
6 squares BAKER'S bittersweet baking chocolate
4 squares BAKER'S unsweetened baking chocolate
1 tsp CALUMET baking powder
1. Microwave chocolates and butter in a large microwavable bowl on high 1 1/2 to 2 minutes or until chocolate is almost melted, stirring halfway through heating time. Stir until chocolate is completely melted and smooth. 2. Stir sugar into chocolate until blended. Mix in eggs and vanilla. Stir in flour, baking powder and salt. Stir in nuts. Drop by rounded tablespoons, 1 1/2 inches apart, onto greased cookie sheet. 3. Bake 12 minutes or until set. DO NOT OVERBAKE. Cool 5 minutes; remove from cookie sheet. Cool completely on wire racks. Store in airtight container. (Makes about 3 dozen.)

---
Snow Flecked Brownies
375g best quality dark chocolate
375g unsalted butter at room temperature at least
1 tablespoon real vanilla extract
6 eggs
350g sugar v1 teaspoon salt
225g plain flour
250g white chocolate buttons, preferably Montgomery Moore, or just chop same amount of good white chocolate
tin measuring approx 33cm x 23cm x 5.5cm
Preheat the oven to 180C/Gas 4/350F.

Line your brownie pan base and sides.

Melt the butter and dark chocolate together in a large heavy based pan.

In a bowl or wide mouthed large measuring jug, beat the eggs with the sugar and vanilla.

Measure the flour into another bowl and add the salt.

When the chocolate mixture has melted let it cool a bit before beating in the eggs and sugar, and then the flour.

Finally fold in the white chocolate buttons. Beat to combine smoothly and then scrape out of the saucepan into the lined pan. Bake for about 25 mins.

The brownies are ready, when the top is dried to a paler brown speckle, but the middle is dark and dense and gooey still; remember that they will continue to cook as they cool.

---




Buy Christmas trees and decorations online





Search the web: